What was The Buzz in August?
The Buzz
Our monthly roundup of real estate industry news.
The Dezeen Awards 2022 architecture longlist was revealed at the beginning of the month featuring over 300 of the world's best architecture, interiors and design as well as the studios and the individual architects and designers producing the most outstanding work.
There are 47 categories that you can enter in total within the sectors – architecture, interiors, design, sustainability, media and studio.
Nominations include the C1 @ Design District in the heart of London's Greenwich Peninsula, designed by @Architecture 00. Judges now will determine the shortlist which will be announced in September.
And a joint project from two architecture practices Rollimarchini Architekten & G8A Architects, a tropical sustainable workplace in Vietnam. Jakob Factory Saigon are housed at this workplace and the two firms worked to create a highly innovative and specific manufacturing space, set to become a design reference for tropical sustainable architecture.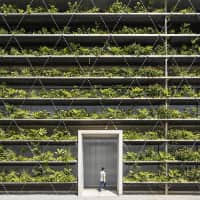 You can see the full longlist here:
https://www.dezeen.com/awards/2022/longlists/ 
According to data by Advanced Workplace Associates (AWA), UK workers are going into the office less than 1.5 days a week. MD Andrew Mawson said: "Organisations need to look at the data showing two-thirds of desks are unused and work with their employees to find smarter, more efficient ways of working that will fit in with how people want to live their lives, save money and be more environmentally friendly.
https://www.theguardian.com/business/2022/aug/15/uk-workers-office-home
Adam Neumann the founder of WeWork is making a comeback and according to The Telegraph his latest venture, 'Flow', aims to shake up the housing market by offering apartments for the WFH generation.
https://www.telegraph.co.uk/news/2022/08/20/man-reinventing-way-live-britain/
Jacob Rees Mogg seems to have had to do a U-turn after failing to get civil servants to return to work in government offices. It has been reported that he will now sell off £1.5 billion of property in the next three years because offices in central London have been "under-utilised". Mr Rees-Mogg said "We are cutting the cost of the public estate so that we can return money to the taxpayer".
https://www.indy100.com/politics/jacob-rees-mogg-home-working-from-home
Companies are being exposed for 'flex-washing' – it might seem simple to mention 'flexible work' options in the job description to bring in talent or making sure employees stick around. But if these companies are not following through in a genuine, trusting and holistic way, these policies will soon be exposed.
https://fortune.com/2022/08/29/companies-flex-washing-talent-shortage-careers-flexible-work-backlash-holger-reisinger/