The Changing Workplace Throughout the Queen's Reign
The Buzz
The jubilee celebrations got us thinking about how much has changed during the 70 years of Queen Elizabeth II's reign.
Naturally it didn't take long for us to consider changes in the workplace.
Nowadays your toaster can order replacement bread if it's running out, and your computer will remind you that you need to get up and stretch. The workplace is more flexible than ever, with people working from home and even commuting via driverless cars. Starting with the 1950s, we've explored the changes in the workplace.
1950s – Open plan offices
The dawn of the 1950s brought advances in construction, and the popularity of modern materials such as steel and glass. The smart, clinical architecture became the new image of corporate business.
With it the widespread use of air-conditioning and fluorescent lighting, meaning these new high-rise buildings had very little need for natural light or ventilation gained by opening windows.
These technological developments, meant the corporate office became completely autonomous from the outside world – as well as allowing for wider, more open plan floors where workers could be placed virtually anywhere. This formula enjoyed worldwide influence.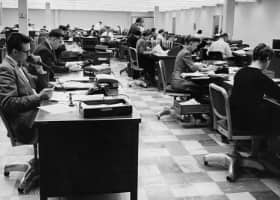 What was the Queen doing?
June 2, 1953 – Following the death of her father the previous year, Elizabeth's coronation took place in Westminster Abbey. She was crowned Queen Elizabeth II, at age 27.
1960's – The arrival of the office cubicle
Former graphic artist and sculptor, Robert Propst, became president of the Herman Miller Research Corporation in 1960 and set out to solve the issue of uninspiring offices. In 1964, Herman Miller introduced the world's first open-plan office system – a bold departure from the fixed assumptions of what office furniture should be. With Action Office, Propst created a workspace solution that fit the way people really worked. Action Office was designed as a set of components that could be combined and recombined to become whatever an office needed to be over time.
Action Office transformed workplaces around the world, as well as Herman Miller and the entire office furniture industry, which scrambled to copy it. It stood the test of time because, as the nature of work changed, it evolved to meet the changing needs of workers and their new work processes.
What was the Queen doing?
May 18, 1965 – First state visit to West Germany – The Queen's 10-day visit to West Germany was the first official visit there by a British royal since 1913. It marked the 20-year anniversary of the end of World War II, helping to symbolise the reconciliation between the two countries.
1970s – Modularism
Offices used to be made up of cubicles and c-suites. Employees were more often encouraged to work independently and always stay on focus, much different to the modern workplace where collaboration is encouraged.
Workplaces were a lot less tech orientated – most business communication took place over landlines and in person, and documents were all hard copies.
It was also the height of 'flower power' and 'peace and love'. It was a vibrant era of contrasts, creativity and connections. Unabashedly bright, 'in your face', often discordant contrasts heralded the era of modularism and technology. It was all about the look. For the first time, comfort became a big factor in furniture design. More padding and organic curves jostling with highly glossed finishes, metal, glass and larger than life furniture.
The debate over cubicles, open plan and private offices still raged… it seems that some things never really change.
Email, Word processor and the first personal computers were all invented in the 1970.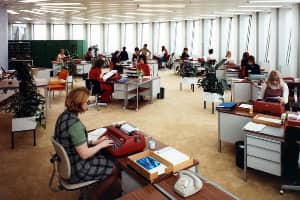 What was the Queen doing?
1970 – During a royal tour of Australia and New Zealand, Queen Elizabeth rebelled against centuries of royal tradition when she took a casual stroll to greet crowds of people in person, rather than wave to them from a protected distance. A 'walkabout' is now a regular practice for British royals.
1980s – The cubicle farm
This decade saw the office layout moving towards productivity and profitability. Cubicles were cheap, effective and increased focus. Corporate culture became a priority. Workers started to dress in power suits, and employees began talking about a work-life balance. The computer started to gain popularity in the workplace.
Workspaces were crammed with characterless cubicles and these cubicles were not the Action Office style of the 1960's. These were much smaller, leaner and meaner with high walls and hard edges. The focus was on extracting every ounce of productivity out of every worker every minute of the work day. The word cubicle became synonymous with 'heartless, energy sucking prison' – a place that workers loved to hate.  Office design philosophy was squarely based on profits before people.
Truly open plan spaces for workers were few and far between, but when they were the office design followed the trend of mainstream interior design. The 'big hair' of the '80's was translated into interior design with its brash, hard-edged looks incorporating lots of chrome, glass, bold graphics and bright colours in reception areas.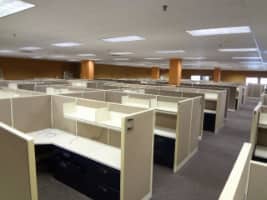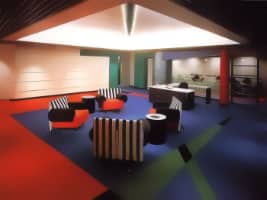 Trading floors
Formerly, an exchange's trading floor was often referred to as 'the pit' because it was physical location within an exchange where traders would enter in order to fill buy and sell orders.
Traditional trading floors worked by traders interacting directly with each other in the pits of major exchanges. Today however, trading floors are filled with computer systems and television screens. A certain number of human traders can still be found on trading floors, although their numbers are greatly reduced from what they used to be.
Perhaps the most famous trading floor in the world is that of the New York Stock Exchange (NYSE), located at 11 Wall Street in New York City. Its trading floor has seen fortunes both made and lost – including in the infamous Wall Street Crash of 1929 which brought about the Great Depression.
For those who have never witnessed or experienced what the environment is like on a trading desk, it's pretty much as you might imagine – lots of people barking orders into their phone as they look to open and close positions. Any notion of calm and serenity, of traders sat quietly at their desks making millions, can be forgotten.
Following the advent of the internet, many trading floors were replaced by electronic trading systems. These are widely considered to be faster than the traditional way of trading, in which traders used the open outcry method of shouting, and hand signals to communicate bid and ask prices.
Fast forward to the 2020s and Covid, as banks are bringing employees back to work, trading floors could soon get a dramatic makeover.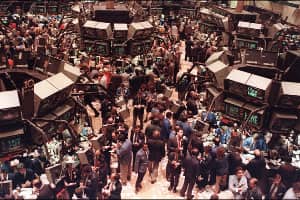 Leading technologies and innovations
Technology was starting to become essential to work, with personal computers showing up on nearly every desk.
'84 Apple's Macintosh was launched
'85 The first dotcom address was registered
'89 The World Wide Web came online
What was the Queen doing?
June 21, 1982 – Prince William was born to Prince Charles and Diana, Princess of Wales. Although William is the Queen's third grandchild, the line of succession means that he is second in line to throne after his father.
1990s – Beige
After the bright, bold and even garish interior design trends of the 1970's and 1980's. The 1990's saw the pendulum swing in the opposite direction. It was time to play it safe. Boring beige became the favourite 'go to' colour. While the bland office design style of the 1990's was a bit of an anti-climax, things were improving technology-wise. Personal computers became a staple in every office.
Office design became more utilitarian and functional – even dull, while computers transformed the way people worked. Improvements in connectivity and the start of the world wide-web meant that computers became essential for many employees. If the 1990's had a claim to fame, it was as the beginning of the tech, or dot com era.
The number of workers employed increased along with office space costs meaning more and more cubicles were jammed into less and less space, consequently cubicles had to become smaller, again.
What was the Queen doing?
August 31, 1997 – The Death of Princess Diana. The Queen's daughter-in-law, Diana, Princess of Wales, died on August 31 from the injuries she sustained in a car crash in Paris.
November 20, 1997 – Golden Wedding Anniversary. The Queen and Prince Philip celebrated their Golden Wedding anniversary with a special garden party at Buckingham Palace for couples also celebrating their Golden Wedding.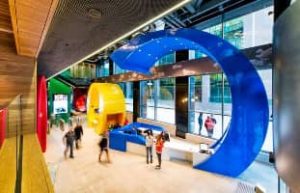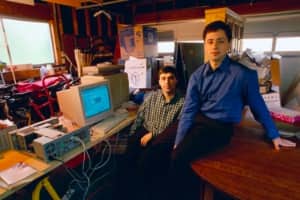 2000s – Tech takes over
The widespread use of technology in the workplace began to affect low-wage, lower-education jobs. Just as technology had reduced the number of jobs on the factory floors, it also meant fewer administrative assistants, bank tellers and retail workers.
There is more focus on feeling comfortable in the workplace, with things such as standing desks, comfy seating and remote working having been introduced in recent years to keep staff happy and motivated.
The modern workplace is all about social collaboration and rising tech trends. New tools and technology have transformed the way we work, from video software being introduced in the early 00's and social media rising in popularity a couple of years later.
The Internet, smart phones, online file sharing, etc. has all made it possible for us to work anywhere and everywhere, which has led to a rise in remote working and collaborate with people on the other side of the world with ease.
With technology comes distractions however, and 40% of someone's productive time is taken up by shifting between tasks.
Death to the cubicle
Whatever lustre the cubicle had back in the 1960s faded by the new millennium. The early 2000s saw the rise of open-floor office plans and more began telecommuting. Work satire influenced pop culture, with 'The Office' premiering on The BBC in 2001 and the American version arriving on NBC in 2005, bringing in over 11 million viewers.
A study by Cisco reports 60% of today's assigned offices and cubicles sit empty during a typical day. The realisation prompted companies to decrease the size of their employee work areas.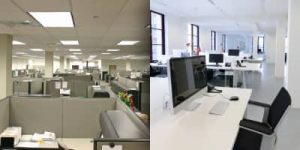 What was the Queen doing?
Tragic deaths – The Queen's younger sister, Margaret, died from complications of a stroke on February 9, 2002. The Queen Mother also passed just over a month later, on March 30, aged 101.
June 24, 2002 – To celebrate her Golden Jubilee, Queen Elizabeth travelled more than 40,000 miles in 2002, including visits to the Caribbean, Australia, New Zealand, and Canada. She also visited 70 cities and towns in 50 counties in United Kingdom.
2010s – Activity-based working
One of the main criticisms of the now dated open plan office design is the one-size-fits-all approach. That members of staff can work in significantly different ways, on completely different projects, in the same space starts to shape design.
While this encourages collaboration and openness, it also creates distractions and stress for those who need privacy, purpose-built specialist equipment, or just a quiet space to think.
Office design seeks to answer the needs of all with the arrival of the activity-based model. Here, contemporary spaces seek to answer the needs of all work styles. Workers are presented with a range of spaces to choose from – including their own desk, wide open meeting rooms with whiteboards, IT suites or breakout spaces with coffee and snacks.
What was the Queen doing?
May 27, 2012 – The name's Elizabeth, Queen Elizabeth. The Queen made a cameo alongside Daniel Craig as James Bond for the opening of the London 2012 Olympics. In a short parody film, Bond actor Daniel Craig entered Buckingham Palace wearing his trademark tuxedo. After a pause, Her Majesty turns from her writing desk and says simply: 'Good evening, Mr. Bond'.
September 9, 2015 – Record-Breaking Reign – The Queen became the longest-reigning monarch in British history (more than 63 years), surpassing her great-grandmother, Queen Victoria. At the time the record was broken, Queen Elizabeth had reigned for 23,226 days, 16 hours and 30 minutes.
2020's – Covid and workplace 3.0
The COVID-19 pandemic has changed the way we will work forever… possibly. With offices closed, employees working remotely from home, and meetings taking place over video calls employees have had to adjust to a 'new normal'. As people begin to return to the office and adapt, organisations need to be able to provide a safe working environment for their employees.
More businesses will look at deploying technology as a solution, enabling them to integrate processes quickly and provide an effective solution to managing their workspace.
Workplace 3.0
Out of the great home-working experiment emerges Workplace 3.0. The workplace of the future recognises that if people can work productively at home, that the office needs fewer desks and more agile work settings. This is activity-based working in its prime with the workplace seen as a destination – a collaborative, interactive and social hub which takes inspiration from the hotel reception and other hospitality environments but with dedicated space for quiet, concentrated work.
People choose where they work, whether at home or which part of the workplace depending on their specific tasks. Workplace 3.0 is a balanced workspace which reflects organisations' environmental, social and corporate governance approach. It has three key themes: wellbeing, sustainability and technology.
While trends tend to come and go, there has been a significant rise in biophilic office design and companies bringing a little of the outdoors into the work environment. This can be achieved through the addition of fresh shrubbery, increased access to natural light and air, and in some cases the installation of living walls as a feature. The psychology behind the office space is now a number one priority and there are many details within office spaces that help shape how we behave. We spend most of our professional years in the same room or even at the same desk, and the workspace you have can influence the overall company psyche. From creative performance to overall well-being.
Office furniture has also had to keep pace with office design and the popularity of workplace wellbeing, and as a result, we have seen sit-stand desks become an integral part of many offices. With the power now firmly sat with the employee, companies are now providing more facilities to attract and retain the best employees, these could be showers and cycle storage or places for eating/drinking or outside working events.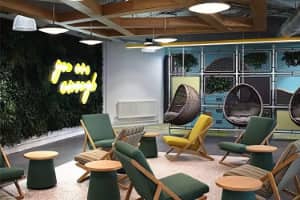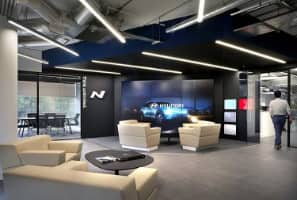 Workplace 3.0 is a place where people want to come, where they fear missing out if they're not there. It is an environment where people are highly engaged and productive and where absenteeism is low. Due to the advances in technology, companies that fail to adopt practices and environments that cater to more flexible, collaborative office environments will also fail at attracting younger, more diverse generations to join their workforce.
What was the Queen doing?
April 5, 2020 – Queen Elizabeth delivered a special broadcast in relation to the coronavirus outbreak. In a rare speech, she acknowledged the grief and financial hardships Britons faced during the coronavirus pandemic. Echoing the words of the Vera Lynn wartime song, she said that "we will meet again".
April 9, 2021 – Prince Philip Dies – The Queen's husband of 73 years, Prince Philip, the Duke of Edinburgh, died aged 99.
April 12, 2021 – 95th Birthday – The Queen's milestone birthday marked the first without late husband Prince Philip by her side in seven decades. Celebrations were significantly smaller amid the ongoing coronavirus pandemic, and the recent passing of the Duke.
What will be the office of the future?
The office of the future will be a collaborative and social hub where people come together to discuss ideas, come up with solutions to problems and be together. While the technology exists to facilitate remote/flexible working, leaders may need to adapt their management styles, relinquishing visual control over team members.
What will the Queen be doing?
The Queen's Platinum Jubilee 2022 takes place from 2nd to 5th June. Queen Elizabeth II will become the first British Monarch to celebrate a Platinum Jubilee, marking 70 years of service.
Queen Elizabeth II is the longest reigning British monarch, and one of the most widely recognised figures in the world. She is the only queen who has worked outside of the home.
The workplace and what it offers employees has changed a lot over the course of her time as monarch. Co-working spaces are now popular, there are more female executives than ever before, and women are making more money than ever before.