11 Amazing Offices That You Will Want To Work In
The Buzz
Given our recent musings on office design, we started to consider the places we'd most like to work.
Finding a job that inspires us and where we feel part of a great team is of course important, but so too is the space. Here are some designs of amazing offices in the world:
1. Microsoft, Vienna, Austria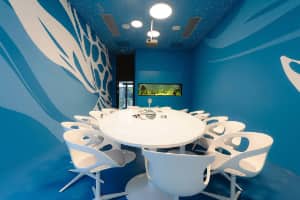 Complete with rooftop garden, gym and swimming pool as well as restaurants, libraries and theatres, it's hard to imagine how anyone ever leaves. There's also an auditorium come cinema, art gallery featuring work by local artists, a bowling alley, climbing wall, and gym.
2. Google, Amsterdam, Netherlands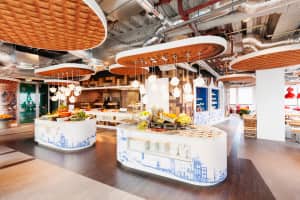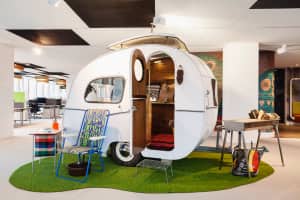 Featuring classic architecture, expertly blended with Google's modern aesthetic, this office has been designed with collaboration and creativity in mind, with plenty of rooms for groups to work together, as well as quiet spaces for concentration or privacy. The café and roof terrace are great for grabbing lunch, coffee or for the renowned Friday afternoon "TGIF" sessions.
3. Facebook, Menlo Park, US
Facebook's new headquarters in Menlo Park, California is a Frank Gehry design. Created with collaboration in mind, it has an open floor plan and lots of natural light. It also has the largest private rooftop garden in the world.
The sprawling campus is LEED Gold certified (meaning it has been built using sustainable materials). In addition to being environmentally friendly, the building has lots of other perks: there are yoga rooms and dog parks for employees' furry friends, and there are fitness centres on each floor.
4. LinkedIn, San Francisco, US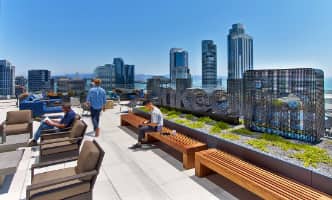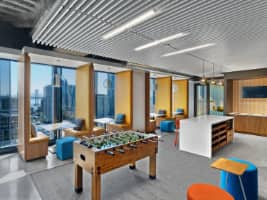 Located at 181 Fremont Street, right next door to Tesla Motors' factory and across the street from Adobe Systems' headquarters, there are three floors with plenty of space for collaboration and team meetings.
The project team at IA Interior Architects drew inspiration from the diverse landscape and history of the city. Through the colour, texture, pattern, and art, IA designed each floor with San Francisco front and centre.
Flexibility was top priority; every work station can be moved to accommodate various types of work. Similarly, the conference rooms can be shifted depending on need; employees can add to them by popping out a wall or shrink them by doing the reverse. Every floor includes either a game space or a library/quiet zone; this is important for the engineers who spend a lot of time in the building and need some respite. Each floor's respite areas, called 'Refresh' align with the theme of the floor.
5. Ticketmaster, London, UK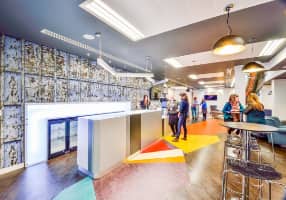 Ticketmaster worked closely with a team of talented designers from the TSK Group to bring this project to life. It had a phenomenal range of innovated features including the dynamic integration of technology which is similar to its Hollywood offices, chill out zone complete with pinball machines, pool, ping pong and football tables and a slide connecting two floors.
Lots of powerful themed graphics, and various clever vintage and re-cycled materials helps to generate energy, inspiration and deliver exceptional sustainability benefits.
6. Google, Kuala Lumpur, Malaysia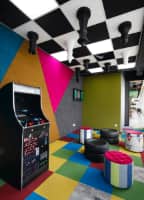 Plants sprout from the walls and ceiling, while bright décor makes for an office that feels like a technicolour jungle. There's a boardroom designed like a cave, complete with stalactites, and playground swings in the café.
Like Google's other offices, the entire space is open, connected and meant to foster collaboration among employees.
These offices were designed by locally based, global workplace design firm M Moser Associates.
7. Vodafone, Porto, Portugal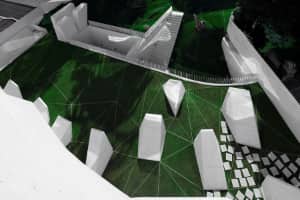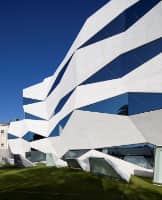 A brilliant example of architecture in motion, the Vodafone Building has been designed to representation the brand's slogan: 'Life in Motion'. Designed by Barbosa Guimaraes Arquitectos, this skeletal structure seems to tumble upon itself, a sculptural monument to a keen architectural vision and a playful sense of wonder for a progressive brand like Vodafone.
8. Red Bull, London, UK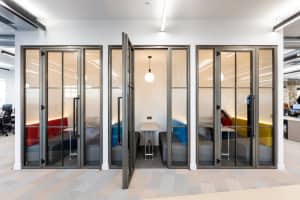 Dthree Studio worked closely with the global giant Red Bull, to create an impressive and memorable London headquarters. Dthree Studio were tasked with creating a space that reflected the ethos of Red Bull. Dthree focused on adaptability using folding walls, fabric acoustics, and carefully selected product specifications to create collaborative and innovative areas throughout the entire building which could also be closed off when needed. The office interior offers fluid movement, accessibility and a feeling of cultural connectedness.
9. FUSE Workspace, Austin, US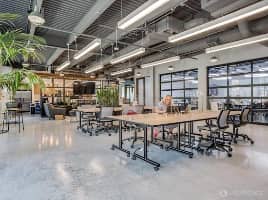 Featured on our client LiquidSpace's marketplace, Fuse Workspace features 116 private offices, seven conference rooms holding up to 50 people, a podcast studio, two outdoor patios with sweeping views of the Hill Country, free covered parking and a full-time concierge team to assist members and guests. The atmosphere has been created to foster creativity and productivity. The design at FUSE is modern, fun and happy. Whether someone is sitting in a coworking space, meeting room, or outdoor patio the space has been designed to inspire you to work.
10. Kingsley, London, UK
Design team KKS Savills and WKspace plan the layout, infrastructure and décor with collaboration and activity-based working in mind.
Spaces have been created according to needs with areas for collaboration, personal wellbeing, inclusivity and productivity.
Each space was created with the help of specialists in the acoustic field, our clients Savile Row Projects, to control noise and vibrations and to allow staff to collaborate without distracting those employees who want to work in silence.
11. Storey, 6 Orsman Road London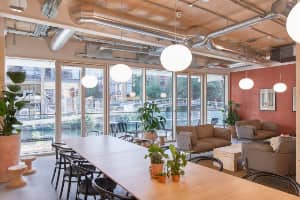 Photographer – Ed Reeve @editphoto
Shoreditch architects Waugh Thistleton are the pioneers of cross-laminated timber – a sustainable material that's not only non-toxic, but also increases productivity. Their design for 6 Orsman Road pushes new boundaries, celebrating biophilic design: using natural, sustainable materials like timber and clay finishes as well as natural daylight and air-purifying plants to create an environment that actively improves your wellbeing.
Everything from the exposed timber to the waterside setting is designed to make you feel calmer, more focused and more inspired. Every floor is flooded with natural light. The roof terrace boasts panoramic views over London, while the ground floor terrace basks in the peace and calm of the Regent's Canal.
A happy workplace is crucial to a company's success. A good working environment where all employees' needs are catered for can lead to improved productivity and a more fulfilling experience.