What is biophilic design and what are the benefits?
The Buzz
Put simply, biophilic design about bringing the outdoors in, using natural features and finishes to create an environment that boosts wellbeing.
Here, we explore biophilic design and the benefits it can have on the workplace.
Where does the concept come from?
The term 'Biophilia' was coined by Edward O Wilson, who was one of the founding fathers of the psychology behind the concept. Examples of biophilic design can be seen as far back as the late renaissance, when people started to bring exotic greenery into their homes to survive the harsher climates. Features can include plants, water features, natural lighting, or patterns and design styles that mimic nature like wood effect flooring.
In the 19th Century the Victorians popularised the seaside holiday – a bid to reconnect with nature and step away from the increasingly urbanised cities. It's not uncommon for lifestyle trends to be represented in design, and the idea of bringing the outside in, started to become popular not long after.
In the modern workplace, the token office plant has been a mainstay for decades but now biophilia is becoming an important consideration for any office design centred around wellbeing. So, what exactly is fertilising this popular trend?
Increasingly, architecture in cityscapes is looking to bring the natural world into elements of the construction and within the infrastructure of modern homes and office spaces.
Within offices, the focus is on creating a place staff enjoy working. Biophilia has become vital in this aesthetic, with companies like Apple creating a tree-filled building in California and Amazon's futuristic greenhouse domes in Seattle.
Four benefits of biophilic office design
1. Improve employees physical health
Did you know that adding greenery into the office can significantly improve air quality? Research by Norway's Agricultural University in Oslo found that plants remove harmful compounds, such as formaldehyde and benzene found in paint, carpets, and furniture. In fact, plants are said to improve the air quality by up to 75%.
These harmful compounds can result in employees getting sick as the dry air can irritate the nose and throat, making staff more susceptible to viruses and allergens. Placing plants around the office helps release water vapour back into the air, reducing the likelihood of employees getting sick and having to take time of work.
A Harvard study found that the key to working better, sleeping better, and feeling better could be rooted in the design, maintenance, and operation of the building where we spend most of our time. The national study, conducted by researchers found that green certified offices lead to a 26% boost in cognition and 30% fewer sickness-related absences amongst workers.
2. Improve mental health and wellbeing
Spending time outdoors is crucial for our mental wellbeing. It can be difficult to prioritise stepping away from the desk every day and spending time outside, especially in the winter months. Incorporating plants and natural elements into the workplace employees are better able to reconnect with nature, and this has been proven to alleviate feelings of stress according to many.
The presence of greenery in offices has also been proven to lower stress and anxiety levels by up to 37%, as well as decreasing tiredness by up to 38%.
3. Improve creativity and productivity
A series of studies from Exeter University revealed that employees were 15% more productive when workplaces contained even just a few houseplants. This is because biophilic design can improve key cognitive functions and encourage creative and innovative thinking.
A Human Spaces research report, 'The Global Impact of Biophilic Design in the Interface Workplace' showed that productivity and creativity levels increase by 6% and 15% when workers were in office environments with natural elements, such as greenery and sunlight.
While open plan workplaces are often the most favoured office layout, ensuring this space is visually stimulating, featuring natural elements and lots of natural light, will help workers feel more productive, less tired, and will help foster creativity.
4. Attract talent and improve company image
Let's not forget that natural elements make the office inviting.
Workspaces with natural light, greenery, and design that mimics nature, simply put, makes the office a nice place to be, both for current employees and potential new talent.
Our favourite biophilic office designs
Uncommon coworking – Holborn, London 
Leading edge ventilation and filtration, rich biophilia and carefully sourced products, all combine to cultivate a wholesome environment with sustainability and wellness at its centre.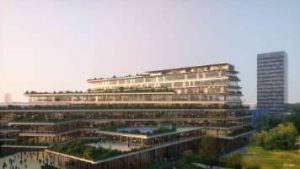 Welcome – Milan, Italy
7,300 sqm plant-covered terraces. The outdoor spaces include vegetable gardens, flower gardens, lawns and promenades. The larger terraces can be used for business meetings, informal conferences, gatherings and events.
CBRE Netherlands HQ – Amsterdam 
The office contains more than 150 m2 of greenery. There are more than 600 plants with enormous diversity, function, texture and colour.
1 Finsbury Avenue Square (1 FA)
British Designer Morag Myerscough has created a brightly coloured café topped with plants to help improve the wellbeing of office workers in a revamped office building in London's Broadgate.
The nature of biophilic office design is founded within the happiness and wellbeing of those who spend time there, while also respecting the environment with sustainable materials. Ultimately, such tangible connections with nature boost quality of life and work.